The Experience of a Lifetime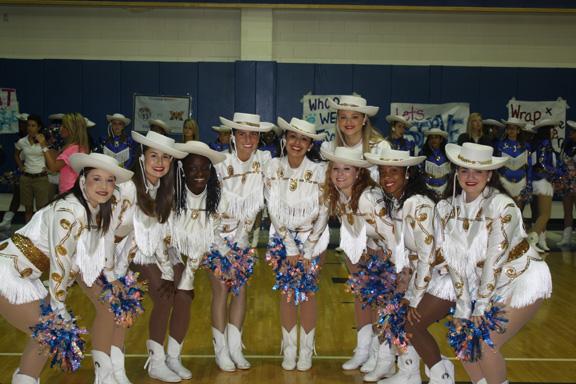 About a month ago as you walked into your third period class, you might have seen a calico walk into class bouncing around with excitement. As you listen to her talk, you hear the words, "Super Bowl" come up in the conversation. Then you feel the need to listen more closely. "Did she just say they're going to the Super Bowl?" Yes, the rumor was true. The CHS Calico dance team was chosen by Jerry Jones to perform in the 2011 Super Bowl XLV on February 6th. In front of over 200,000 die-hard football fans, including celebrities such as Lil Wayne, Ashton Kutcher, Cameron Diaz, Justin Beiber, and Alex Rodriguez, the Calicos performed with other dance teams chosen across the state. They not only got to perform on the world's most expensive football field, but alongside the famous Black Eyed Peas, Usher, and Slash. People across the nation watched the CHS Calicos create a fabulous Super Bowl half time.
"It was absolutely amazing," junior Calico Miranda Morris said. "The adrenaline rush was intense."
Right before the performance, the Calicos waited anxiously in the tunnel to go onto the field in front of the nation.
"People were leaning over trying to take our pictures like we were celebrities or something," junior Calico Carlee Miller said. "We even saw Usher from a distance," junior Lieutenant Brianne Wilcoxson added. "He's really short!"
They performed to all of The Black Eyed Peas big hits and Usher's O.M.G. hit. Fergie also sang alongside the legendary Slash as he strummed Sweet Child Of Mine.
"The Black Eyed Peas were super nice to us," Morris said.
The Calicos costumes consisted of white sweat pants and a white zip-up jacket.
"We all had to wear these head phones so we could hear the music," Morris said.
Over all, the Calicos had the chance of a lifetime.
"It was absolutely the best thing that any of us have ever experienced," Morris said.
The memories will always be with the girls for as long as they live. To say that you performed at the 2011 Super Bowl XLV is something worth telling your grandchildren. Hard work is what earned the Calicos this great honor. CHS would like to congratulate their Calicos on all the hard work and the wonderful performance they put on for our nation. This was truly an experience of a lifetime.