Colonel Mackey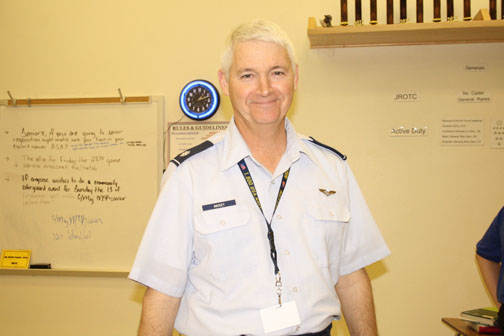 Coming from San Antonio, Texas Lt. Col. Mackey came into Corsicana and became one of our tigers! As the instructor of AFJROTC along with Sgt. Hardie, we hope he gets a good impression for his new environment.
He graduated from Sharps town in Houston. His plans after high school were to attend college. In the course of college he got a bachelor's degree in foreign language which was Greek. After that he got another interest for science, to be exact in the oil business. He then got a job, a position of geophysicist. But after many years he decided he wanted to be something else. He then decided to join the Air force.
Lt. Col. Mackey severs almost 26 years in active duty. 25 years, nine months and 13 days to be exact.
Having to arrive at a new environment has left him pretty satisfied. Having nice facilities, and along with the students leave a first impression for a new Tiger member. "I liked the kids, the ROTC Cadets are very impressive young men and women" he said.
Being a teacher for ROTC has been pretty good. The students have been good to a point where Lt. Col. Mackey "appreciates the quality of the students". Being a teacher at Corsican High School also means having goals for your students. The one thing that Lt. Col. Mackey expects his students to accomplish from his teaching is to "Create good citizens for our country".
After the first few days of school Lt. Col. Mackey stated "I'm very happy to be here. My goal is to emphasize all the cadets, show them how to run things better, to be organized and coordinate, as well as teaching and learning how to be great leaders and become one great follower"