Tigers Tough it Out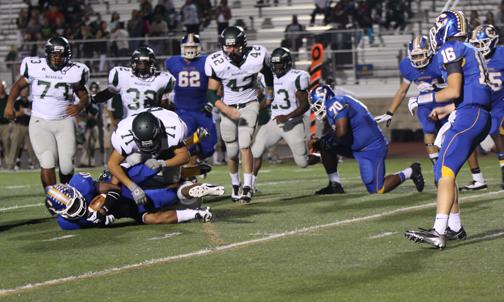 The Tigers got to start off their new offense in a big way, with cameras everywhere! But Waxahachie's big defense shut the Tigers down in the second half, not allowing them to score any in the second half. Hachie's defense was the only thing that was on last night, the Indians offense was booming, especially in the second half. Jake Villarreal threw for 306 yards on 35 attempts with two passing touchdowns.  While Ledarron Crawford was top on the running game for Hachie with 105 yards with 10 carries.
Although the Tigers lost they still kept up with the Indians for the entire first half. The big plays on defense by Breyon Hill, Jacob Grayson, and Donavan Fields helped the offense get going. While on the offensive side Ronnie Devereaux rushed for 148 yards and Bobby Wallace with 71 receiving yards.
Waxahachie was the first one to score in the game, but the Tigers answered right back with a 62 yard run by Donavan Fields to give the momentum to Corsicana. Fields scored on the first play in the second quarter with a 3 yard run to make the score 7-6 Waxahachie after a failed two point conversion by the Tigers.
Devereaux put the Tigers in great field position with a 54 yard run that set them up with a perfect opportunity to score. Which the Tigers successfully did by a pass from Zach Rash to Bobby Wallace on a fade route to give Corsicana their first lead of the game with 2:48 left in the first half (12-7). But right before the half Alonzo Gipson got tripped up and Quinn Sargent took advantage and took the lead once again with a 41 yard pass from Villarreal.
Rash threw the ball well with 110 passing yards. But the Tigers mainly stuck with the running game as Devereaux had an outstanding game as well as Fields.
The Tigers are now 1-3, as they get ready to face Sulphur Springs. Corsicana hopes to build on their new offense to get ready for their first district game October 12th.