Tigers Stepping Up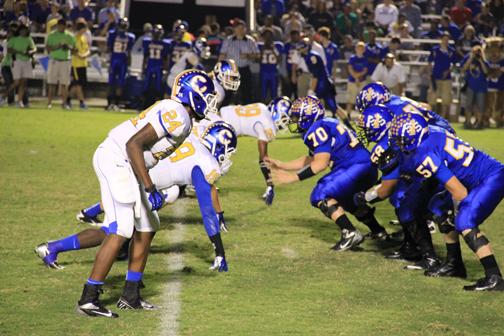 Friday night the Corsicana Tigers had a couple of new faces on the field due to injuries. Donavan Fields, Ronnie Deavruex and Pedro Escamilla were all on the sideline at Friday's game wishing that they could be the ones making the plays. However a couple of underclassmen stepped up to fill their spots such as Trey Owens (Freshman), Hunter Easley (Junior) Keasandre Spence (Junior) and Bobby Lopez (Sophomore) all stepped up. Corsicana played well they just couldn't bring home the win that night.
The Tigers gave up two quick touchdowns in the 1st quarter to give Sulphur Springs a demanding 14-0 lead. In the second half, the Tigers gained some momentum from running backs Keasandre Spence and Tygarius Sheffield which ran for a combined total of 180 yards against the Wildcat defense. "We have a lot of talent they just have to learn how to play four quarters," said Darance Dedmon, a diehard Tiger fan. The Tigers have a bye week this week before we start up our district games. We just have to be injury free and be able to play all four quarters to get our first district win.
About the Writer
Aaron Cantu, AVTech


Hello, my name is Aaron Cantu. I am currently a Senior at Corsicana High School. I play baseball and I am the sports editor for the Jungle Beast Journal....