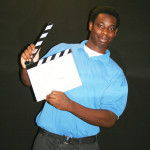 My name is Bryson Faulk I am a student here at Corsicana High School.
I love being around a lot of technology and being in front of the camera. Music is my specialty.
Creating videos, designing pictures and filming is all I really want to do with most of my life. When you see me on campus with a camera or at the pep rally that lets you know i'm on the job doing what I do best.  I learn a lot from my mentor Mrs. Karen Vandiver she is the best at teaching a student like me on how to work on technology and handing  equipment. Well if you want to know more info about me just hit me up.
Bryson Faulk, AVTech