Lady Tigers on a roll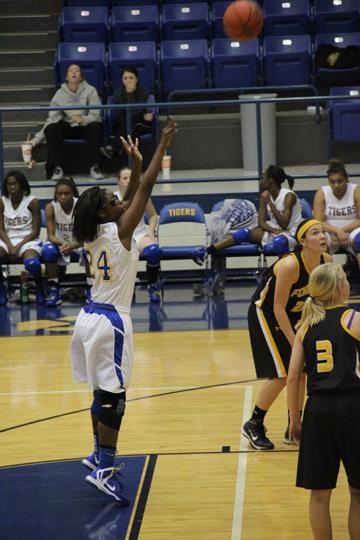 The Lady Corsicana Tigers won their fifth straight game in a row after beating the Forney Jackrabbits at home on Tuesday night by winning 44-36. AI (Calae Wilson) led the Tigers the entire night by leading the Tigers with 15 points, along with Tatyanna Betts with 7 points.
At halftime the Tigers led the Jackrabbits 23 to 18, facing a hard opponent like Forney is hard to do. In the last quarter Corsicana sealed the deal right after the Jackrabbits went on a 7-0 scoring run. With 1:29 seconds left to go in fourth quarter AI was fouled and sank 1 out of 2 at the free throw line. As well as Brianna Biltz having a key offensive rebound, and a basket to finish the game
"Our girls really worked hard tonight, winning five straight games isn't easy, but I always tell the girls hard work pays off." Head Coach Art Prevost said. After the game Prevost walked up and down the stands thanking fans for coming out and supporting his team.
The Lady Tigers will take on OD Wyatt in Fort Worth this Friday hoping to make it six straight wins. Coach Prevost should have his young team in a good position for another win.