Tigers overpower Waxahachie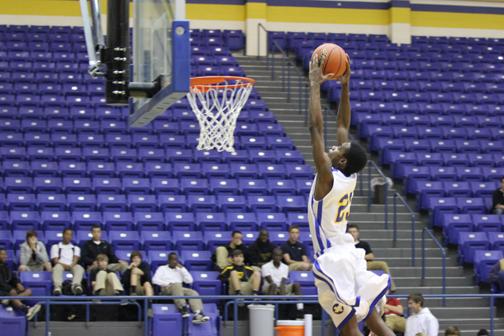 Ernest McGee hung around the rim all night against Waxahachie. It worked out great for him and our Tigers since he came out with 24 points and led the Tigers to a 62-52 victory. The Corsicana Tigers captured their third straight win at Tiger Gym after winning the Fairfield tournament the past weekend.
Winning the game by 10 might seem like nothing, but for the first three quarters the Tigers went back and forth with the Indians, fighting to try and claim the lead. It wasn't until the fourth quarter, when the Tigers took the show away.
Dzifa Mallet and Jamaal Evans both made 1 out of 2 free throws to take the lead with 2:16 left in the third quarter. That was the spark that led the tigers to score 11 consecutive points, led by Mallet with a drive to the lane and a shot beyond the arc to make it 41-35.
McGee took advantage the whole night by attacking the rebounds. His last two shots both came from offensive rebounds to make it a 45-35 lead. In the fourth quarter the Tigers took their biggest lead 50-37. However, this only motivated Waxahachie to fight back harder. Antoine Taylor had three 3 pointers in the fourth, to help knock down the Tigers 13 point lead.
The Tigers continue to improve on everything, including their record (10-3) Friday night Corsicana will try and make it four straight wins as they take on Mexia.