Tennis Proud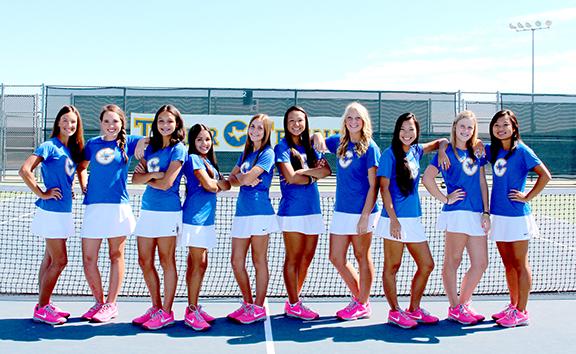 Tiger tennis a proud organization with many goals, but today, we focus on only one. The tiger tennis team hopes to defend its title of district champion this year and get one more trophy to put on that shelf.
So far their plight has not been in vain, achieving win after win for the school. In fact their two most recent district matches have all been wins. If a district win was achieved this year, it would count the third consecutive year of district victory. Although they are optimistic, the Tiger Tennis team realizes this will be a tough undertaking and can only be achieved through hard work and determination.
The team`s success must be half credited to the dedicated hard working coaches of the Corsicana tennis team. The Team is headed by head coach Chad White, an experienced player and coach. Joining him is coach Keltner, also an experienced coach and player with a large tennis background. Without their help none of this success would have been possible.
The team has a serious schedule also. With a game or tournament almost every Tuesday theres not much time for a rest. Every day they practice two hours or more, preparing for their matches as best they can.
Heading the male side of the team at number one boy is Ben Crocker who is determined to win. With the help of his of his doubles partner Jacob Middleton they are a formidable force to be reckoned with. On the girls side heading the team is Maggie Phinney a dangerously good player. As number one it is her responsibility to lead the girls to victory in their upcoming district matches. Whether they win or lose they are putting in an extreme amount of work that is admirable within itself.
In their upcoming match with Nacogdoches, most are optimistic. They have been practicing a lot for this one. The Nacogdoches team is known for being very good and resilient. Hopefully a good crowd will show up to support the team as they take on a very good team. Whatever the outcome it will undoubtedly be an amazing game.
Although they know what they must do they are slightly put out that they lost so many seniors last year. Undoubtedly they will be sorely missed. With names like Tyler Schultz gone we all mourn the loss.
That being said the tennis team is still going strong without is fellow comrades as it prepares for its upcoming district matches. But only time can tell what challenges and problems they will face. The best thing you can do is support them through these hard times which is why the school should definitely support them. That's why this year let's see the biggest turnout to a tennis game we've ever seen. Let's make sure that every team we play knows that we are the tigers and we are proud of it. Let's go to the games like it's the last one and were down by one point. Let's be tigers.