Lufkin defeats the Tigers despiteTrevor Nolen's strong effort, 4-0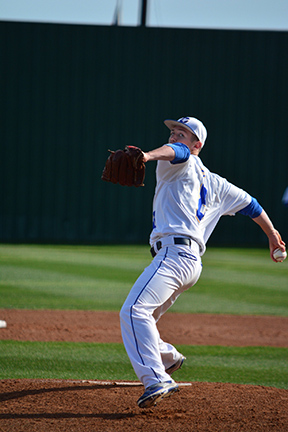 Trevor Nolen held up his end of the bargain, but Trevor Nolen couldn't lead the Tigers past Lufkin as the Tigers lost 4-0 in seven innings at Lufkin on Wednesday.
Trevor Nolen pitched lights out for the Tigers. Lufkin managed just one hit off of Nolen, who allowed no earned runs, walked none and struck out one during his 1 1/3 innings of work.
Cumbie got it done on the rubber on the way to a win. He tossed 5 1/3 innings of shutout ball. Cumbie struck out seven, walked two and gave up one hit.
Brady Harlan couldn't get it done on the mound for the Tigers, taking a loss. He lasted just four innings, walked two, struck out two, and allowed four runs.
Lufkin stayed on top until the final out after taking the lead in the fourth, scoring four runs on three singles.
"Powered by Narrative Science and GameChanger Media. Copyright 2015. All rights reserved."